Building Management
5 trends taking over the Smart Building sector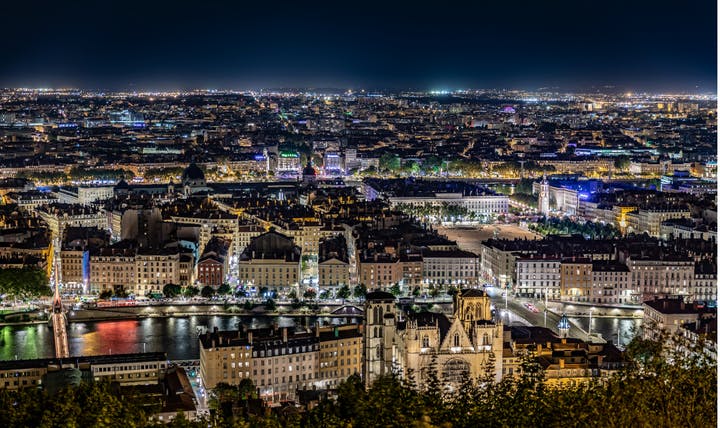 No longer a concept that only exists in cartoons and sci-fi movies, smart buildings are responsible for optimizing resources, reducing pollution, and improving the security and quality of life of occupants.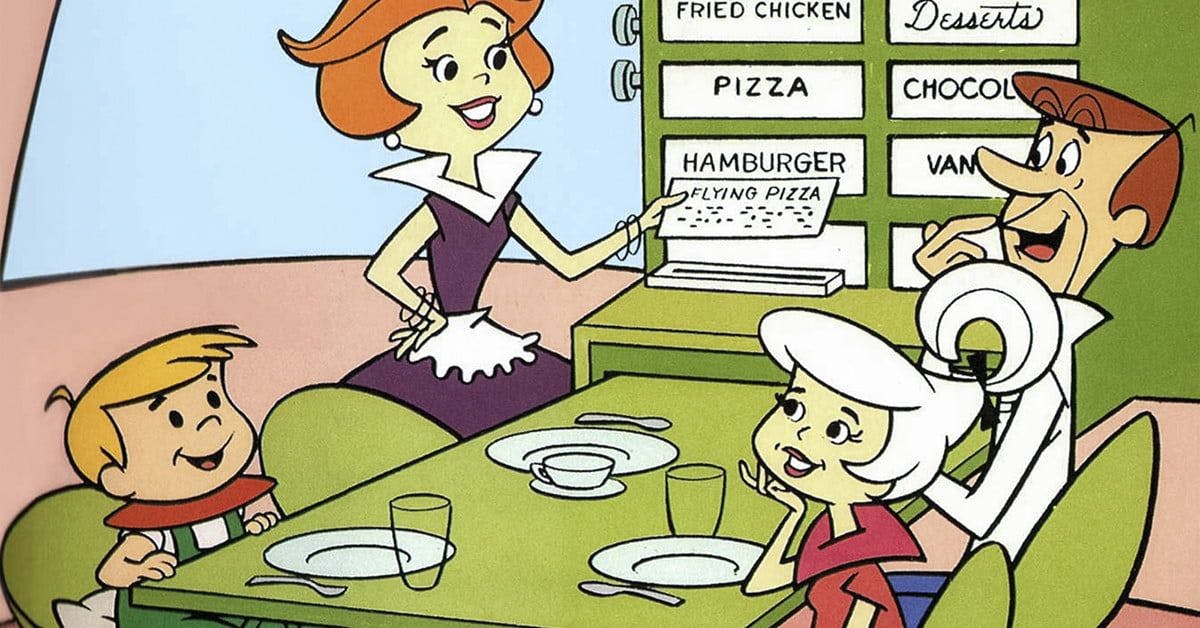 True, we are not living like The Jetsons (yet!) in their smart building complex, Orbit City. But thanks to the evolution of IoT solutions, smart buildings are a reality and are transforming the business model and operational structure of the facility and property management industry.

As a building connectivity service, it's safe to say that at Wattsense, we keep our ear to the ground about what is the future of smart buildings. Using our market insight, we selected five trends that we believe will drive smart buildings this year and are worth exploring.
1. No barrier between Local Computing and Cloud Services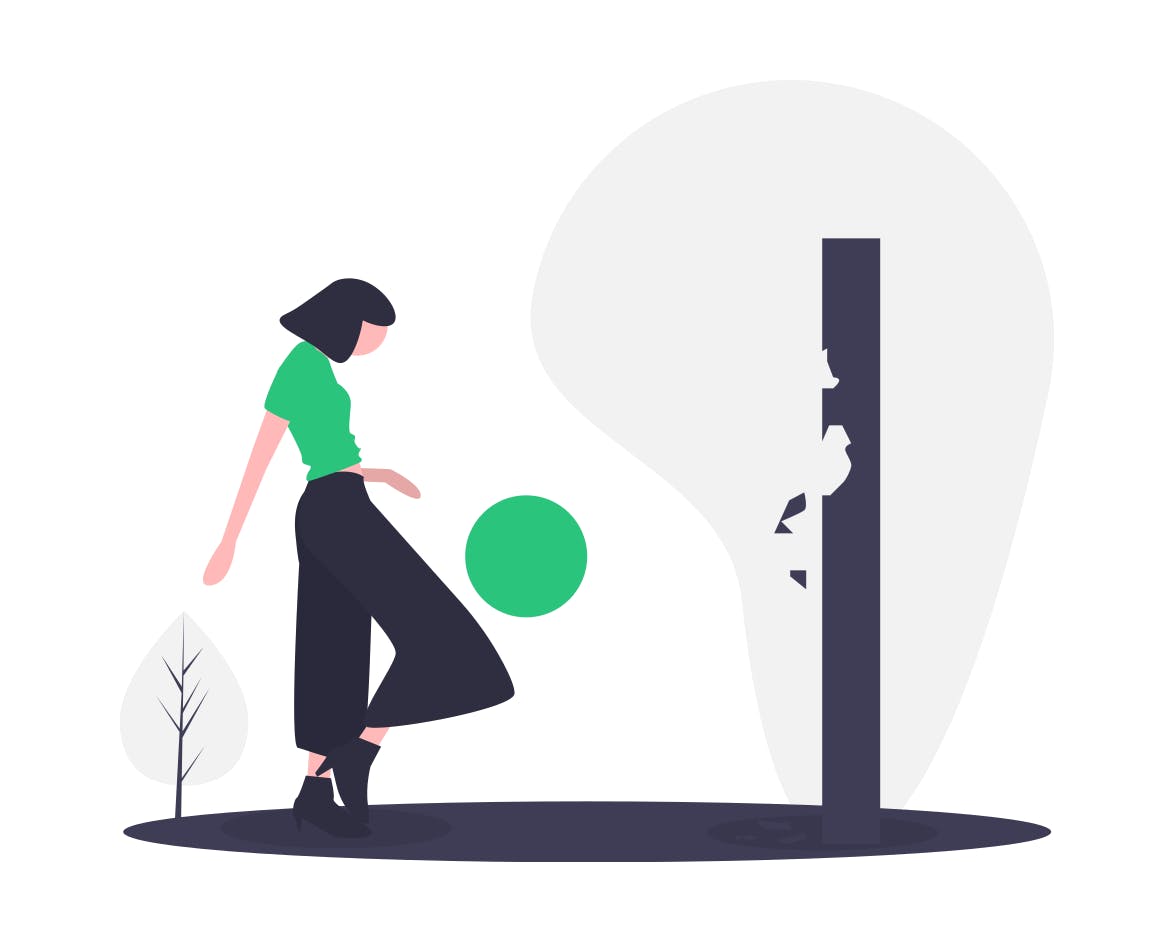 No need to compare local computing VS. Cloud Services; In 2020, you can have the best of both worlds thanks to the evolution of devices and the Internet of Things.
Cloud services have led to a new wave of centralized computing. Still, this digital technology comes with its own set of unique challenges such as latency, bandwidth, and operational availability problems caused by a single point of failure structure. Here is where local computing services come in!
Local services such as edge computing can coexist with the Cloud and help address these challenges.
"Today, only 10% of data is processed outside data centers or the Cloud, but that number is likely to reach 75% by 2022." Explains Vivek Sharma from the USC Marshall School of Business.
Edge computing directly responds to the challenges of Cloud Services, it can offer low latency allowing smart applications and equipment to respond to data in real-time, eliminating lag time. By processing data locally edge computing also saves bandwidth. Local services provide fail-safe features that are independent of the availability of the network and the Cloud.
2. BMS as a service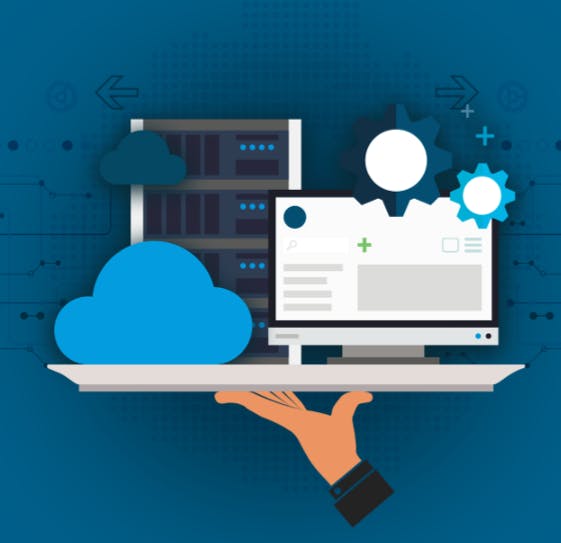 To make performing smart buildings affordable, the building management industry is looking to catch up with the tech industry by introducing its popular flexible consumption model "as a service." You might know it from SaaS and PaaS.
Building management systems as a service (aaS) deliver a higher value to the end customer by allowing them to pay only for what they consume (pay-as-you-go), and lower operational costs.
Innovative asset management companies looking to transform their properties into smart buildings are moving from the traditional hardware and software ownership to the BMS as a service model.

The benefits of OPEX and BMS aaS are:
A shorter approval process
Contrary to CapEx items, the low monthly OpEx expenses don't need to be approved by several layers of management. Which means that companies can deploy their solutions faster.
Flexibility
When you own the hardware or software, you have a bigger resistance to change and tend to use it for a long time just to stretch out the ROI. With BMS aaS, you can change plans according to what is working or not. Flexibility is vital for emerging opportunities in the smart building sector.
Scalability
Instead of having to buy expensive software and hardware for each building you want to digitize, with the BMS as a service, you can easily extend a solution to as many infrastructures as needed.

3. Simpler BMS architecture. Less wire and more power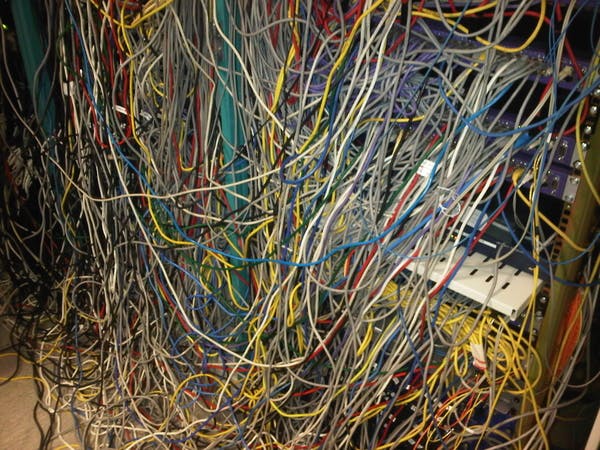 Say goodbye to chaotic BMS IT infrastructures with layers upon layers of communication protocols, networks, and wires. BMS architecture is evolving into a more wireless and easy to manage IT structure.
The increase of IoT and IP-based equipment facilitates the transformation of traditional buildings into smart buildings. Using universal connectors, building portfolio owners and operators can now avoid numerous PLCs, gateways, VPNs, and labor-intensive commissioning to collect data and send commands to their equipment.
Management systems are now integrated into platforms, providing consistent data, uniform interface, and features that are used across the organization, by different employees and departments.
"In my opinion, the key technological trend for the Smart Building industry in 2020 is the introduction of APIs to control building equipment. These communication interfaces can finally allow data transmission across buildings, and facilitate the emergence of services around a unified experience for the user." Olivier Sellès, Head of Smart Building Solutions at BNP Paribas Real Estate.

4.The continuous rise of PropTech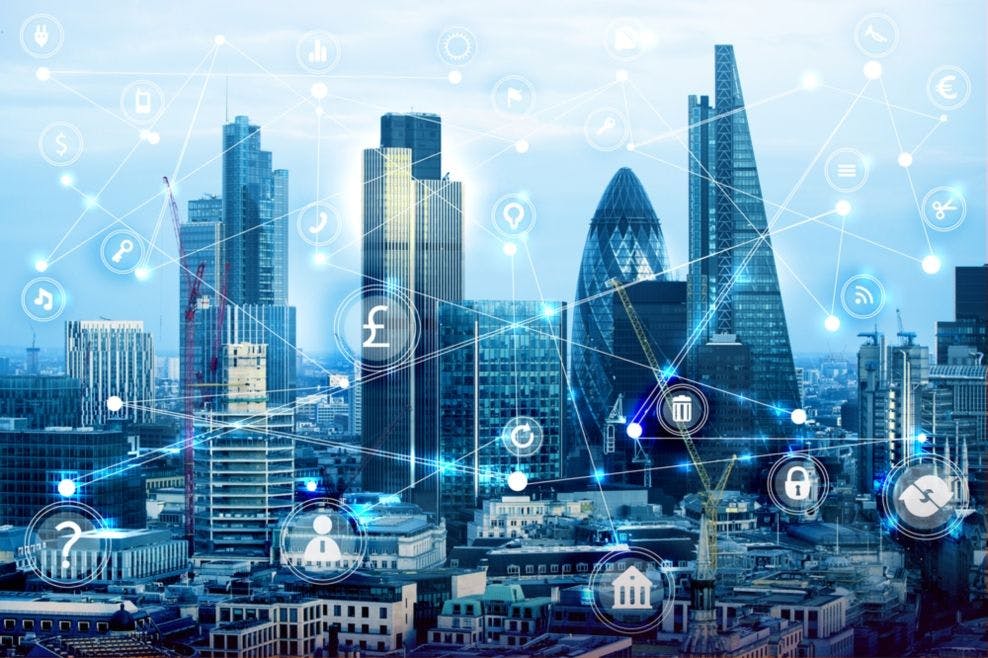 A new vertical of the tech world, PropTech, was created to transform and serve one of the oldest industries in the world, real estate.
PropTech startups and forward-thinking companies are using building connectivity to deploy solutions and software services that satisfy the new consumption patterns of tenants in the digital landscape. The arrival of PropTech in the real estate sector and the rise of smart buildings is no coincidence.
Recently, advanced sensors and devices with billion-dollar energy savings potential have begun to surface in the market. They exist as new metering technologies, sensors, lighting equipment, thermostats, HVAC systems, and many more. They are more affordable than previous generations of hardware, and most importantly, they can connect to the internet. These devices and services create the perfect market conditions for PropTech startups to grow.
Here are a few PropTech companies that are consistently delivering new powerful, and intuitive services for smart buildings. Check them out: Advizeo, Aveltys, Axiom Energy, Carl Software, Citron, Cognizant, Deepki, DeltaQ, Egain, Equinov, Facilio, SmartVent.

5. Increase of M&A and partnerships between Proptechs and industry giants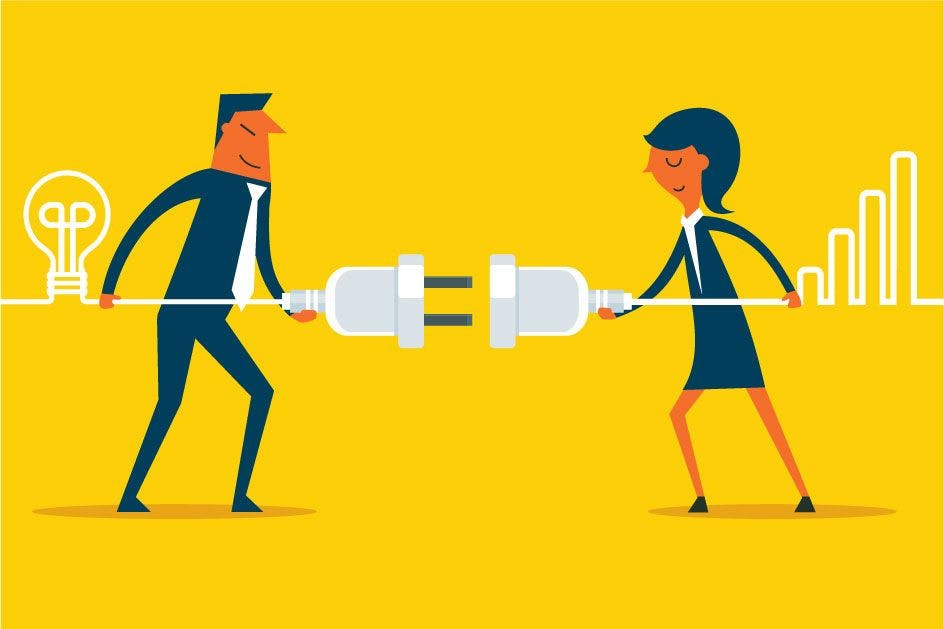 The activity in 2019 around ongoing mergers and acquisitions (M&As) between the Proptech sector and property owners, OEMs, and FM companies is not surprising given the development of the market. We firmly believe this trend is set to continue in 2020.
Why? Because acquiring companies can see these opportunities as a fast track to market growth but also as a way to obtain knowledge and resources with startups that have been developing cutting edge technology for the digital transformation of buildings.
The real estate industry aims to embrace technological innovation. Global brokerages like JLL and massive private equity firms have formed venture capital funds to buy stakes in PropTechs, if not acquire them outright.
For PropTech startups, partnerships and M&A are valuable ways to legitimize themselves to the real estate and building management sector as well as to achieve scale and diversify their offerings to users and potential investors.
"The combination of the digitalization of real estate and the increase in funding specifically devoted to PropTech investments from angel investors, venture capital and well-capitalized and established real estate investors, is driving and will continue to drive an active PropTech M&A pipeline." Explain Blake Liggio and Lillian Kim, M&A specialists for the Goodwin's Real Estate Industry group.
Here are some impactful partnerships and M&A and in recent years:
Siemens acquired J2 Innovations
Tendril Strategic Investment from Rubicon
A visual summary of the trends: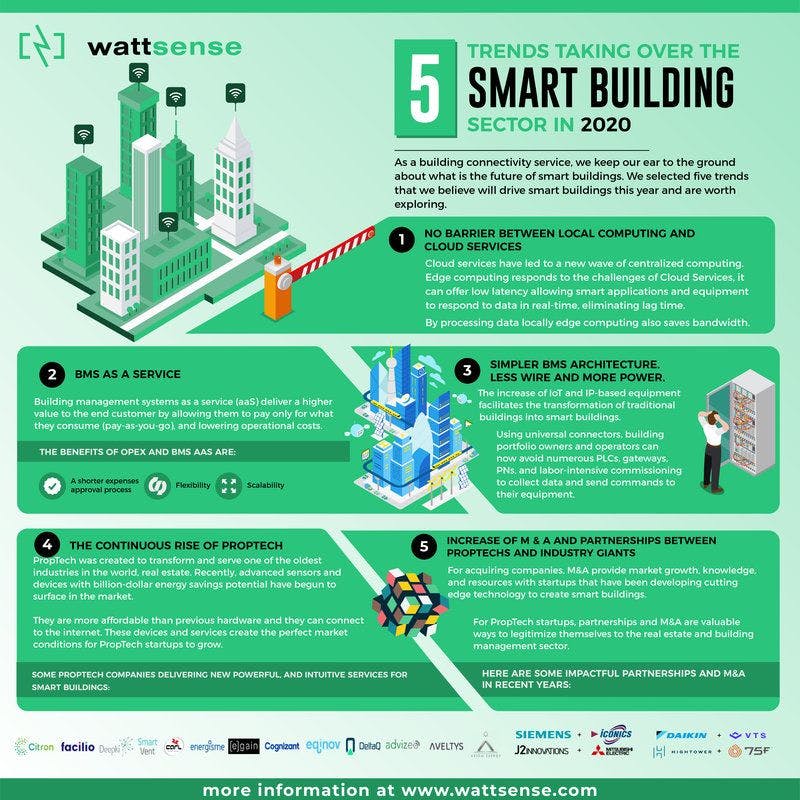 Final thoughts
2020 is an inflection point for smart building technologies. Property owners and facility managers are feeling the need to make buildings more sustainable, and the economic advantage that smart building solutions represent is too good to be ignored. "The Smart building market is projected to grow from USD 60.7 billion in 2019 to USD 105.8 billion by 2024.", according to a 2019 Smart Building Market Research Report.
The transformation from traditional buildings to smart buildings is only the first step towards bigger opportunities for real estate and building management companies.