Wattsense
CITILIGHT the new distributor for the Wattsense connectivity solution in India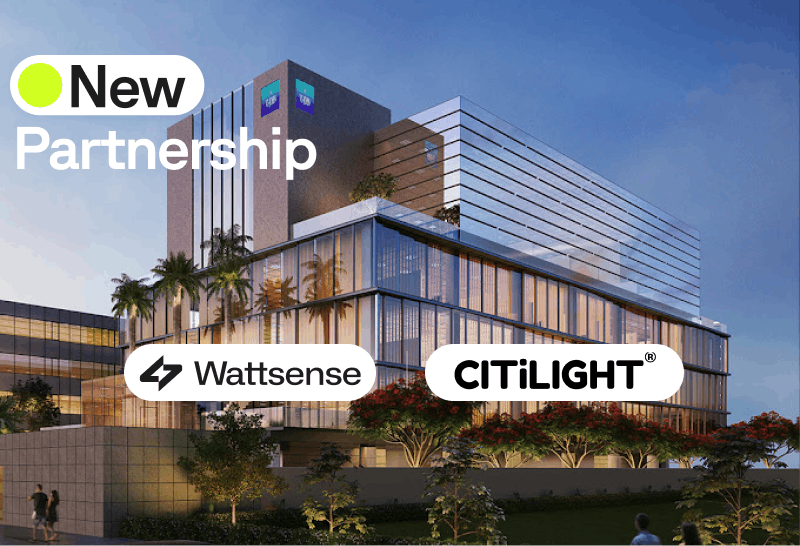 To advance connectivity solutions for building automation and sustainability, CITiLIGHT, a prominent IoT company from India, has a new partnership with Wattsense. This collaboration is aimed to drive innovation and facilitate the adoption of IoT technology for sustainable building practices in India.
CITiLIGHT: Pioneers in IoT Solutions
CITiLIGHT, based in India, initially emerged on the scene with a suite of smart street lighting solutions aimed at transforming urban landscapes. Over the past seven years, CITiLIGHT has successfully executed over a hundred cities, townships, and highways, automating over 700,000 streetlights. 
Building on this solid foundation, CITiLIGHT expanded its horizons with a second product, venturing into indoor automation. The company now oversees HVAC, indoor lighting, and other power systems. This transition into indoor automation reflects CITiLIGHT's commitment to advancing outdoor and indoor sustainable practices.
Wattsense: Unlocking Building Performance
Wattsense, on the other hand, is focused on a connectivity solution tailored to unlock building performance. With a mission to facilitate the digital transformation of facilities, Wattsense's technology offers the means to optimize building operations, reduce energy consumption, and ultimately contribute to a more sustainable future.
A Vision for Sustainability
At the heart of this new partnership is a shared vision for sustainability. 
Aman Chawla, a spokesperson for CITiLIGHT, expressed enthusiasm about the collaboration. "CITiLIGHT is excited to announce our partnership with Wattsense, a renowned industry leader. Fueled by a shared commitment to sustainability, we combine Wattsense's proven technology and expertise with CITiLIGHT's deep knowledge of IoT hardware and software. Our goal is to inspire behavioral changes in building usage and thereby propel our sustainable vision forward."
"At Wattsense our mission has always been to empower property owners with the tools to optimize energy consumption and enhance building performance. Partnering with CITiLIGHT, a company renowned for its innovation in IoT solutions, aligns perfectly with our vision of sustainability through technology. This partnership opens up new horizons for us, expanding our reach into India. We're excited about the endless possibilities this collaboration offers and the positive impact it will have on building automation and sustainability." Explains Antoine Bourgier, account executive at Wattsense. 
For more information about the Wattsense solution in India, visit:  https://www.citilight.co/